In Memory of Retired NCIS SA Dwayne Swear- Adviser to CBS's NCIS New Orleans (Above)
1958- Behind Closed Doors

 

was a television series set during the

 

Cold War

 

hosted by and occasionally starring

 

Bruce Gordon

 

in the role of Commander Matson. The series, which aired on

 

NBC

 

from October 2, 1958, to April 9, 1959, focused among other themes, on how the former Soviet Union stole American missile secrets and proposed steps to prevent further

 

espionage

.

 

Behind Closed Doors was based on the files and experiences of

 

Rear Admiral

 

Ellis M. Zacharias

, who offered comments at the end of each segment.

1967 – Paramount Pictures proposed a television series based on the Office of Naval Intelligence.  The Assistant Chief of Naval Operations (Intelligence) was opposed to the proposal for fear that it would cast Navy enlisted personnel in a negative light. (see attached)
1992 – Harrison Ford visited the Navy ATAC in preparation for his upcoming role as Jack Ryan in The Patriot Games.
Steven Segal visited NCIS Headquarters.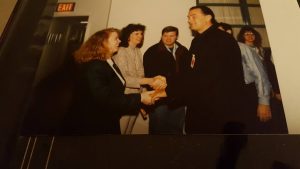 NCIS:  The TV Show
52nd Birthday wishes from the cast and crew of NCIS, NCIS Los Angeles and NCIS New Orleans